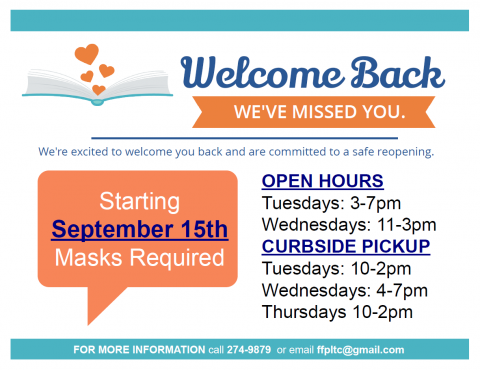 Curbside Pickup
The Fort Frances Public Library Technology Centre is now offering curbside pickup.
Place holds by calling 807-274-9879 (Mon-Thurs 10-5) or by emailing ffpltc@gmail.com
We'll let you know when your items are ready for pickup
Call us from your car when you arrive and we'll bring your items out to you!
Pickup items on Tuesdays and Thursdays between 10:00am and 2:00pm, and Wednesdays between 4:00 and 7:00pm
Return items in the Drop Box at the Library.
Book Drop
The book drop is open for drop off Monday to Thursday from 10:00am to 5:00pm, located west of the main entrance. You can use the book drop to return books, movies, audiobooks, and any other library materials that fit through the slot.
Late Fees
Items currently checked out or checked out through curbside pickup will not accrue late fees.
COVID-19
Physical access to the rest of the library remains closed to the public to help limit spread of COVID-19. Many e-services are available in the comfort and safety of your home. Browse our website to find one that matches your interests.
Use the Ministry of Health's self-assesment to help determine if you need to seek care https://www.ontario.ca/page/2019-novel-coronavirus-covid-19-self-assessment
If you are having difficulty breathing or experiencing other severe symptoms, call 911. Always call your health care provider before visiting.
For the most current information on COVID-19 visit https://www.nwhu.on.ca/Pages/coronavirus.aspx or https://www.ontario.ca/page/2019-novel-coronavirus
Last Updated:Aug 20, 2020